Applications
Mitigating intra and inter station interference during contests.
Protecting receiver circuitry from damage.
Reducing RFI egress and ingress during everyday operation.
Enabling full duplex operation (transmitting and receiving simultaneously) on capable transceivers.
High power handling capability – up to 4,500 Watts ICAS (100 to 200 W for the other guys).
Exceptional out of band rejection, typically > 55 dB and sometimes as high as 75 dB on adjacent 'contest' bands thanks to the 5 pole filtering (3 poles are typical elsewhere).
For example, the 20m Series XL filter reduces transmitted and received signals on the 40m and 15m bands by approximately 55 dB or more with higher rejection figures on bands further removed from the primary band. See the VNA plots in this section for typical units. Series XL filters are hand tuned and there are small variances between units.
High power
Full legal amateur power handling within a 3x safety margin ensures that the filters can be safely placed between the linear amplifier and antenna in a station fitted with a linear amplifier.
Advantages
This yields several advantages. First, filtering is in line after final amplification allowing maximum reduction of transmitted broadband noise and harmonic energy. Secondly, station signal routing and switching is greatly simplified vis-a-vis systems that switch low power filters (multiple sets in a SO2R or multi-op configuration) inline between transceivers and amplifiers. Less complex and more reliable. Further, simpler signal routing systems cost less and will substantially offset an investment in a set of Series XL filters. Additional expense offset comes from needing only one Series XL filter per band available to all station transceivers whereas other bandpass filter systems require a complete set of filters for each transceiver.
Low loss
The Series XL BPFs are carefully designed for extreme (0.5 dB is typical) insertion loss to avoid overheating and power loss. Balance between each of the five poles of the filter is carefully engineered using high quality high-voltage components to ensure many years of reliable and safe operation.
Design
A few words about bandpass filter specs. First of all, 55 dB is a lot and 75 dB is, well, incredible! The well regarded (and rightfully so) 3 pole W3NQN BPFs sold by Array Solutions, rated at 200 W ICAS, typically yield about 40 dB rejection on adjacent contest bands (the exact figure varies between 28 & 60 dB depending on the bands compared). The Dunestar BPFs claim 40 dB adjacent band rejection which is to expected from a 3 pole design. The 5 pole 4O3A designs yield significant additional filtering.
Cooling
All Series XL filters now have 12 VDC 40 ma cooling fans standard at no extra cost. Generally no additional cooling is needed at amateur power levels however transmit duty cycle, ambient room temperature, humidity and antenna VSWR all factor into the heat dissipation formula. See the Power Derating chart below for guidance on VSWR related power capability.
Note the 160m Series XL filter is a 5 pole low pass filter, not band pass.
All 4O3A devices come standard with SO-239 (UHF) female coax connectors. N and 7/16″ DIN connectors available on special order – please contract us for more information.
Bandpass, low pass, high pass and other filters available for non-amateur frequencies and power levels. Contact us with your requirements for a price quote.
Series XL filters and other 4O3A Advanced Contest Solutions are helping achieve big scores at some of the world's greatest contest stations including 4O3A, OH8X, PY5EG, S51A and many others.
Series XL filters – mechanical design
Robust components and construction employing silver-plated high-Q coils, high-current military grade capacitors and heavy duty aluminum enclosures with mounting flanges for secure installation on your bulkhead system or elsewhere in your shack.
All filters and combiners are designed for maximum mechanical stability. This is an important aspect because mechanically unstable coils often get deformed and that causes the filter to become detuned.
The coils made from hard copper coated wire are the most common mistake in filter design – they are elastic and easily deformed.
In our series XL filters each coil is mechanically supported by three Teflon pillars that keep it mechanically stable.
The coils are made from special alloy copper tubes, custom created for our products. They are then coated in silver to decrease losses.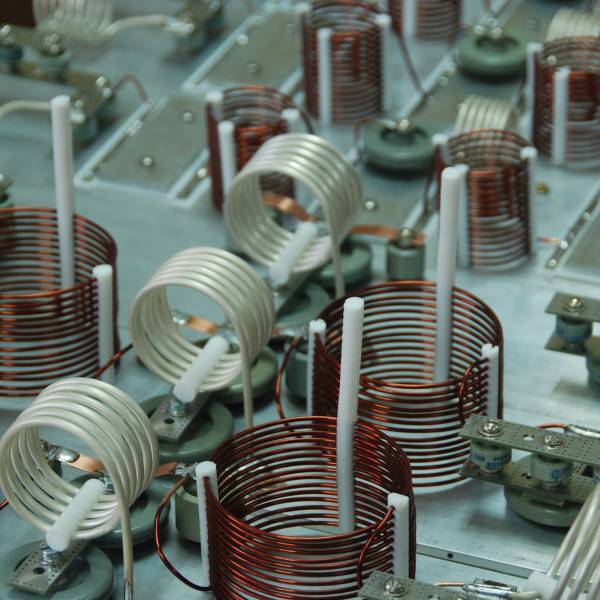 Simplicity
Contest stations operating in SO2R and multi-operator modes will frequently have dedicated antenna systems for each HF contesting band. Installing 4O3A Higher Power Band Pass Filters in the antenna line after the linear amplifier and antenna switch means the right filter will always be in circuit on the band/antenna combination in use and the operator will never have to worry about switching filters between transceiver and linear amplifier.
Contest stations using Triband antennas to cover 20m, 15m and 10m can use the 4O3A High Power HF Triplexer/Combiner in conjunction with Series XL Band Pass Filters to operate simultaneously with a high level of isolation on all three bands with multiple stations sharing the same antenna!
SO-239 connectors are standard; N and 7/16-inch DIN connectors optional.
Size of 160, 80M filters is 62 x 15 x 15 cm.
Size of all other filters is 62 x 15 x 11 cm.