Automation Diagrams
1. Basic SO2R setup with Multi extension
Basic SO2R with 4 radio outputs, making future extension to Multi possible.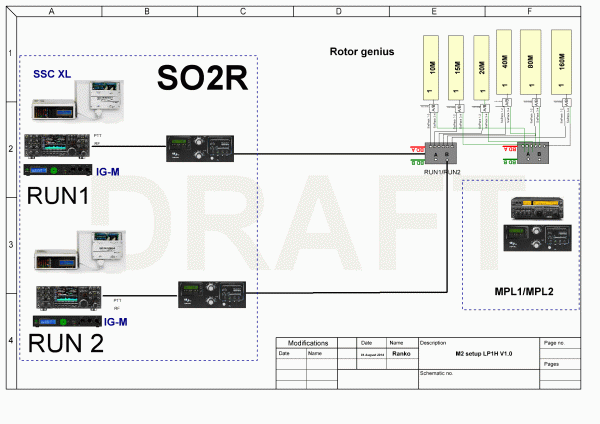 2. Basic SO2R/M2 setup with In Band stations
For serious M2 setup In Band stations are mandatory. This setup is a SO2R or M2 configuration with one In band radio on each RUN band.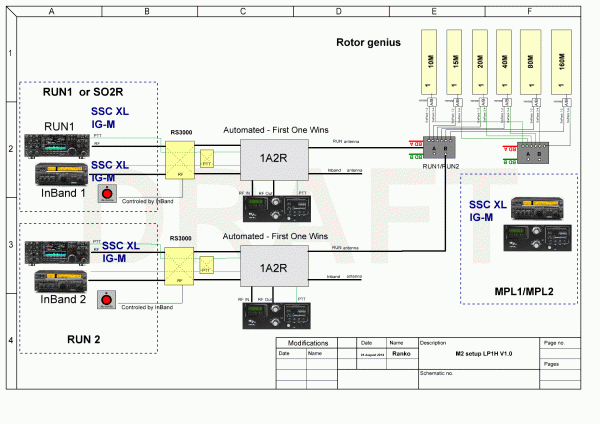 3. SO2R/MS full configuration
This is the 4O3A MS station used in CQWW SSB and CW, winning both contests and setting the new EU record in CQWW CW. Nowdays it is changed as new LAN devices are introduced.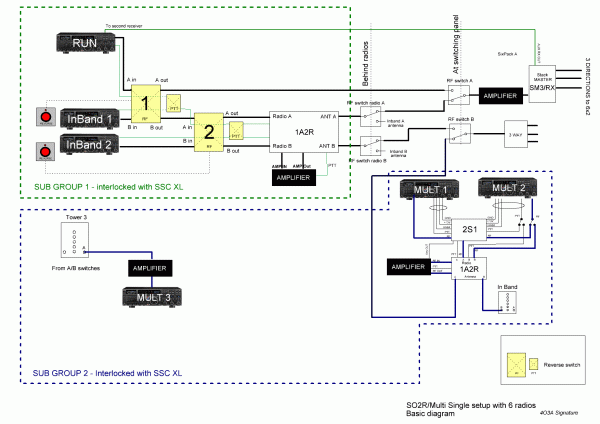 4. SO2R/MS with new Genius products and 4 radios
New Genius family devices introduced in 2015 make significant changes, making the platform more powerful. In diagram attached you have SO2R or MS with 2 In Band stations, and 2 MPL radios (One TRCV with 2 RX build in).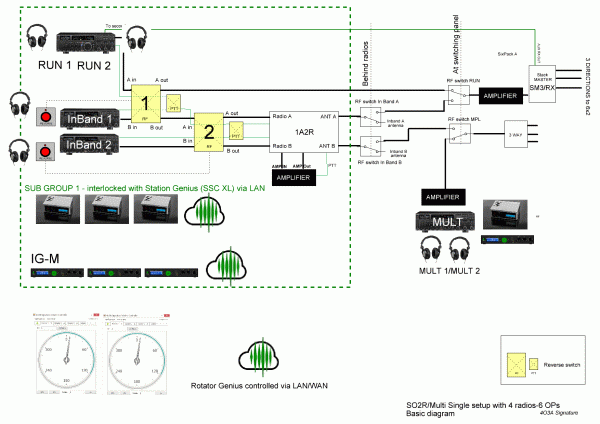 5. SO2R/MS setup with 3 Flex radios and maximum possibilities
This is SO2R/MS setup using 3 Flex radios series 6000. It is simpler, more powerfull and more efficient than configuration with classic radios, whatever model is used.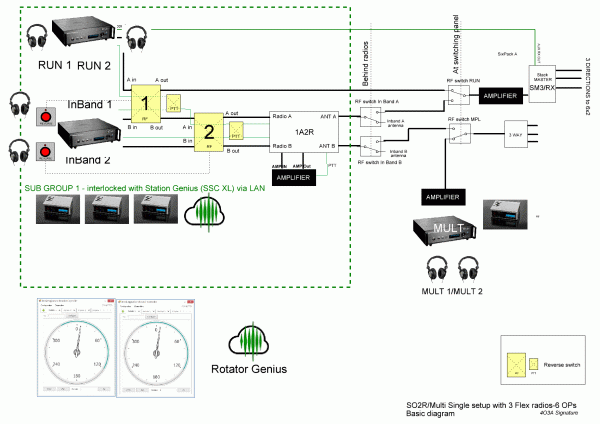 6. SO2R station, ready for MS
If you want SO2R, but you are planning to extend it to MS, then you should make wiring as on the diagram. Future radios are just to be pluged in.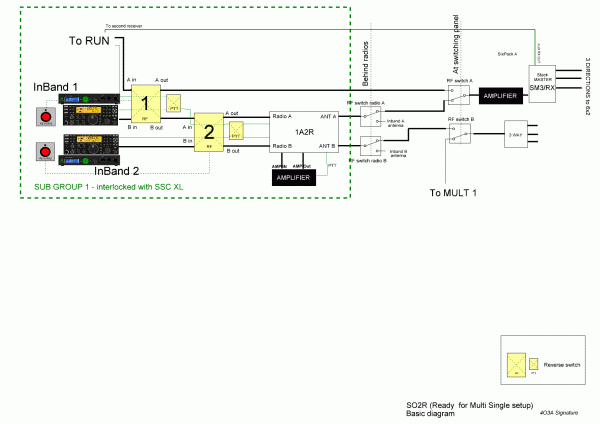 7. SO2R/Multi single with Genius devices and 7 operators at any time
This is the setup which makes you most efficient and flexible. Practicaly, In Band stations will always have one new station on hold to be logged, and MPL stations won't miss any multipliers.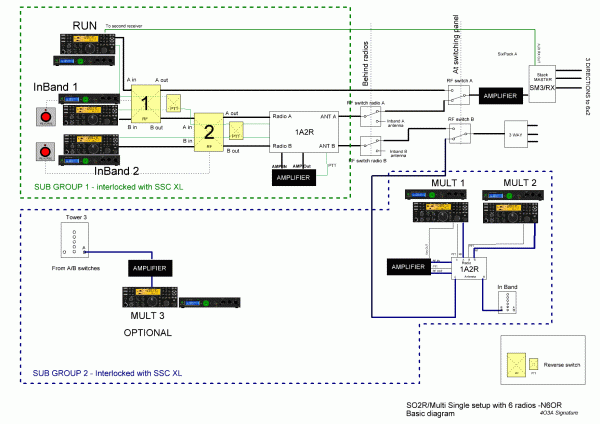 8. Standard M2 setup with two In Band stations on each RUN band
In Band radios are sharing same amplifier with RUN as they can have only one signal at a time. Our 1A2R switch will take care of switching AMP to radio. Which ever pushes PTT first wins (First One Wins). The RS3000 reversible switch, connected before 1A2R can swap antennas in between radios. For example, if In Band radio needs to work a new multiplier, he can take over the big RUN antenna, swapping his antenna with RUN, and when MULT is worked, swap it again to normal position. RS3000 Controller has uC build in and prevents hot switching whenever one of PTTs is active. It makes opetartion of In Band radios much more efficient.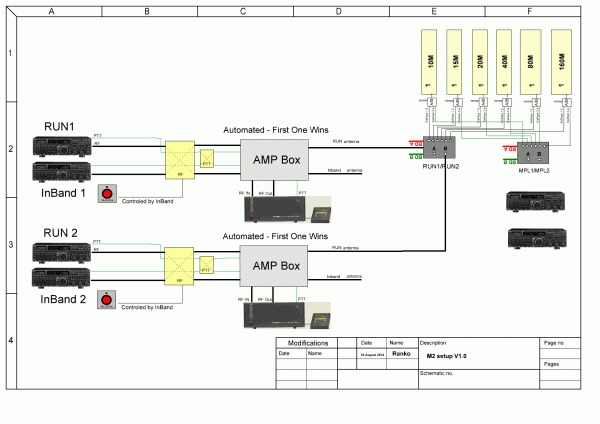 9. SO2R configuration for a limited space, using one tribander/40M and antennas for 80 and 160
Everything on the station is controlled over the LAN network, and can be remotely controlled as well. Includes radio, antennas and rotators. Also WARC and 6M antennas are conneted, for daily DXing.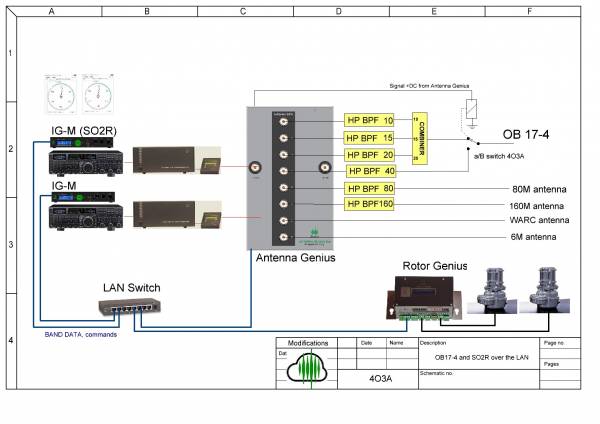 10. SO2R station ready for MS, all on LAN
Simplified diagram of station with new Genius Family devices, extendable for MS. As all is controlled over LAN, the station can be remotely controlled. Future features can be upgraded with firmware. Configuration is made mostly with configuring devices and importing CFG files. No needs to re-wire the station.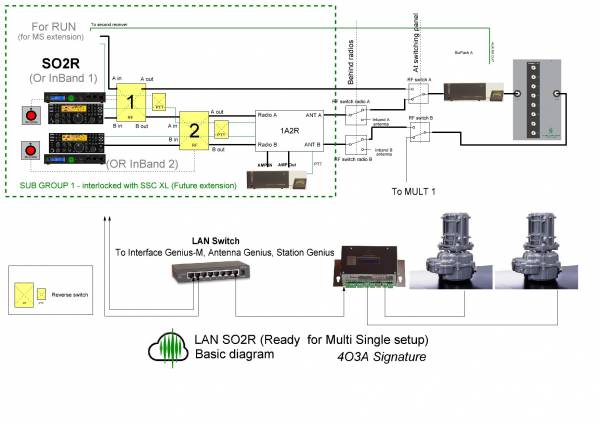 11. M2 antenna / HP BPF switching
Diagram shows switching of filters and antennas for distributing to four radios. It's very flexible for MS and M2. As shown, you need just one set of HP BPFs, as BPFs are in line with antennas. It's way to have highest isolation and harmonics suppresion.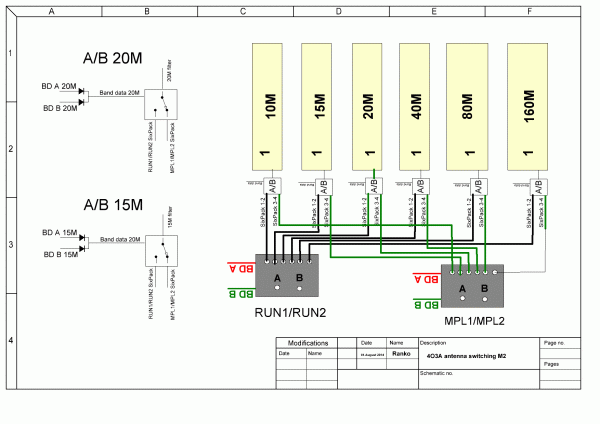 12. Antenna and HP BPF switching for 3 directions
Having 3 directions is very efficient. You do not need to rotate towers often, you can split power in more directions making you loud everywhere. It becones a standard for serious contesting.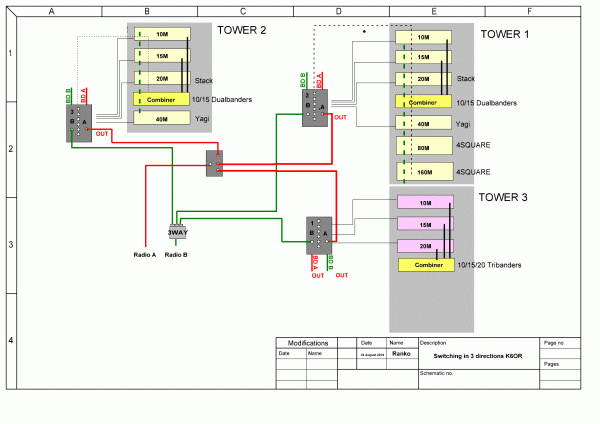 13. SO2R MS M2 using two FlexRadios
Advanced LAN controlled configuration with two FlexRadio radios.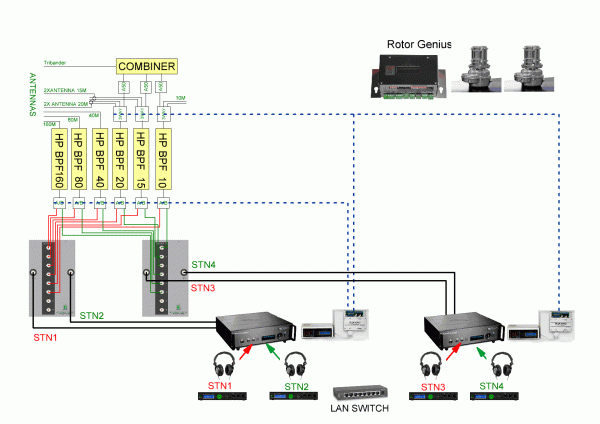 14. DK3BK switching ver C power splitting final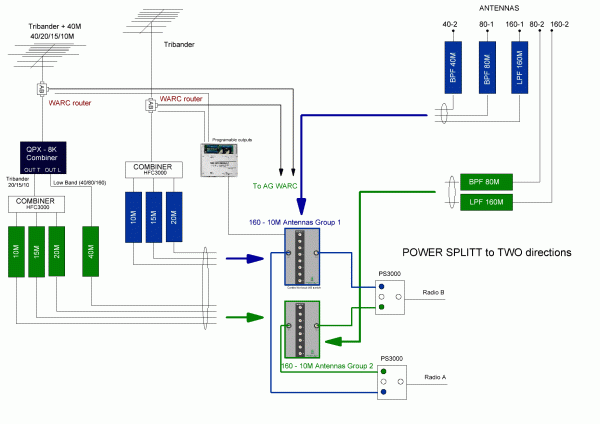 15. MM with Flex and PGXL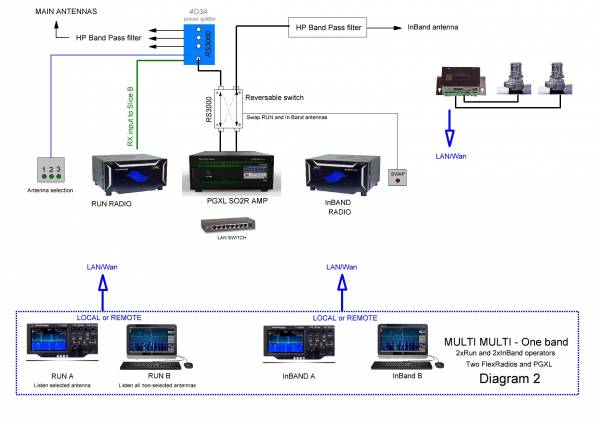 16. MM with Flex and PGXL one radio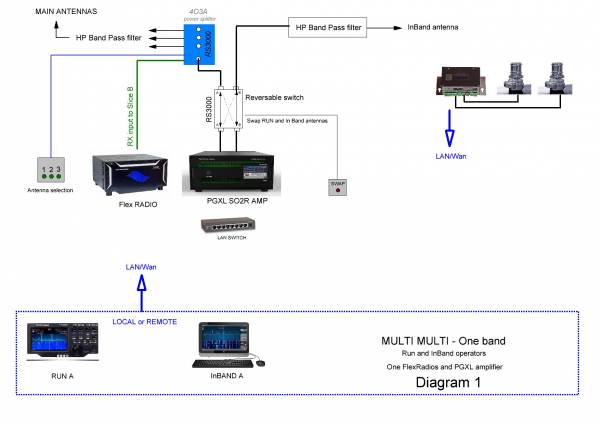 17. MM with Flex and PGXL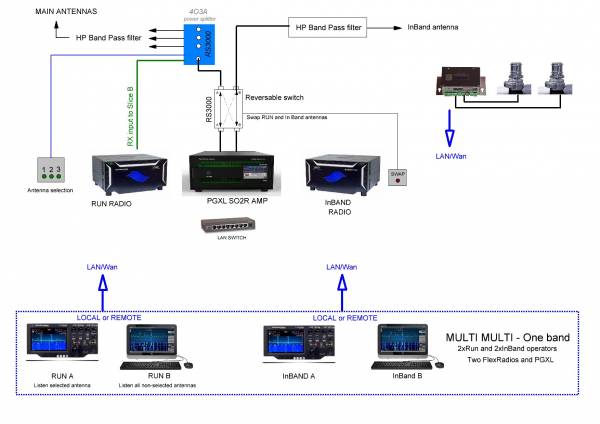 18. MS with 4 operators and two Flex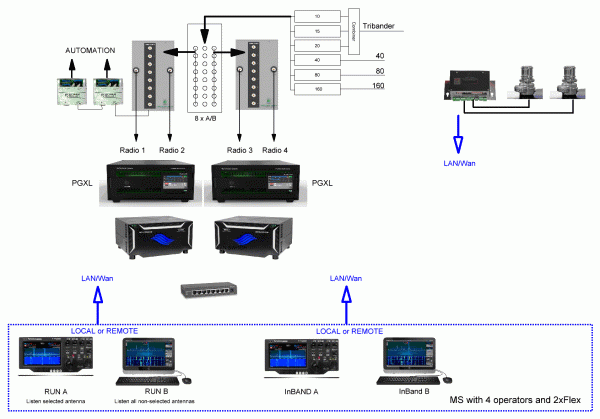 19. SO2R with Flex and PGXL and tribander basic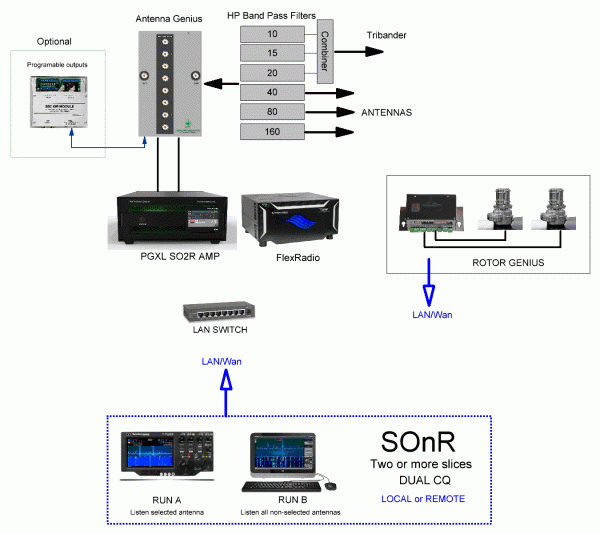 20. SO2R with switching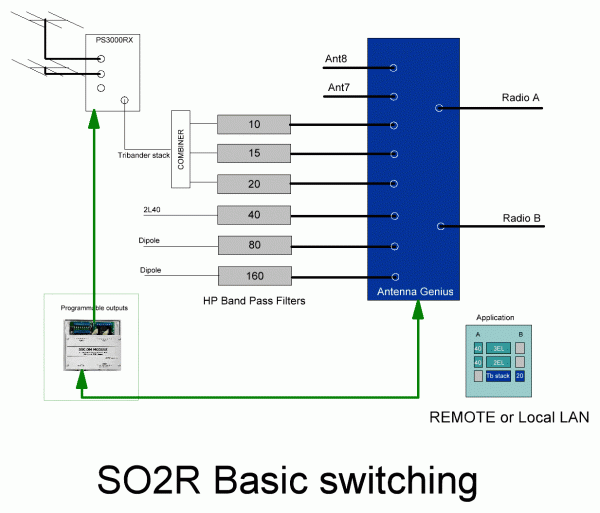 21. SO2R with switching and rotor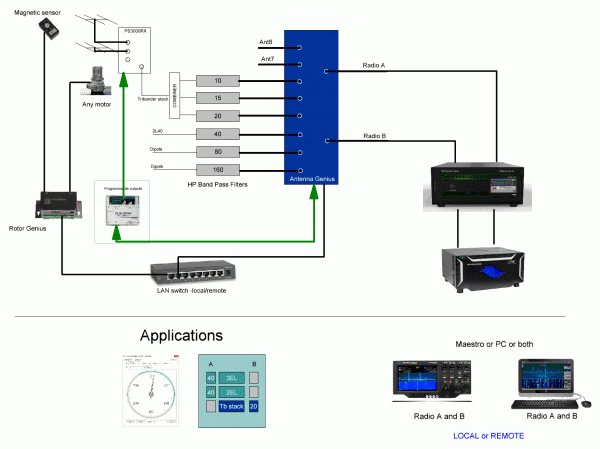 22. SO2R with switching, rotor, PGXL and Flex
23. SOnR with Flex and PGXL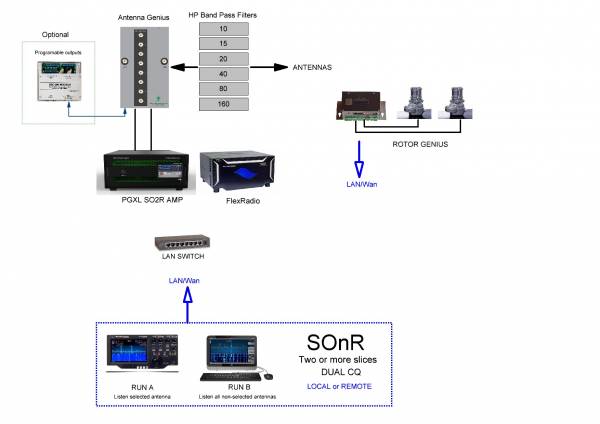 24. WV4P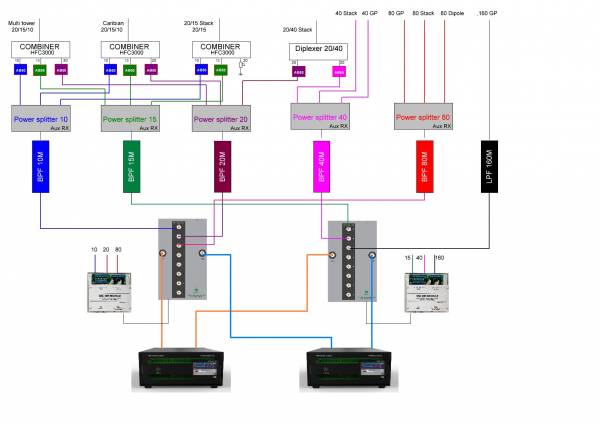 25. AG and 6 Band Pass Filters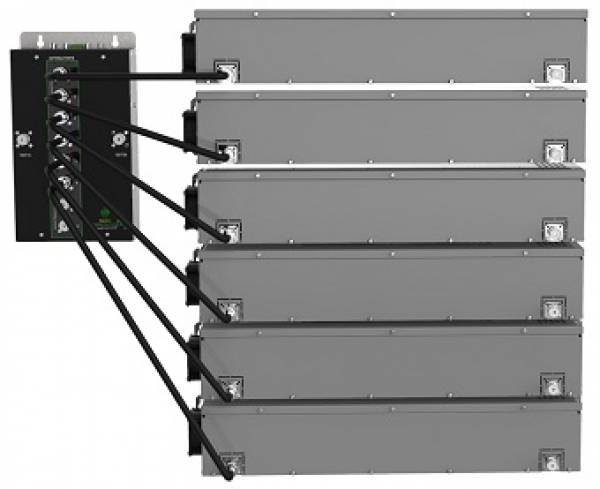 26. Remote station for DX-ing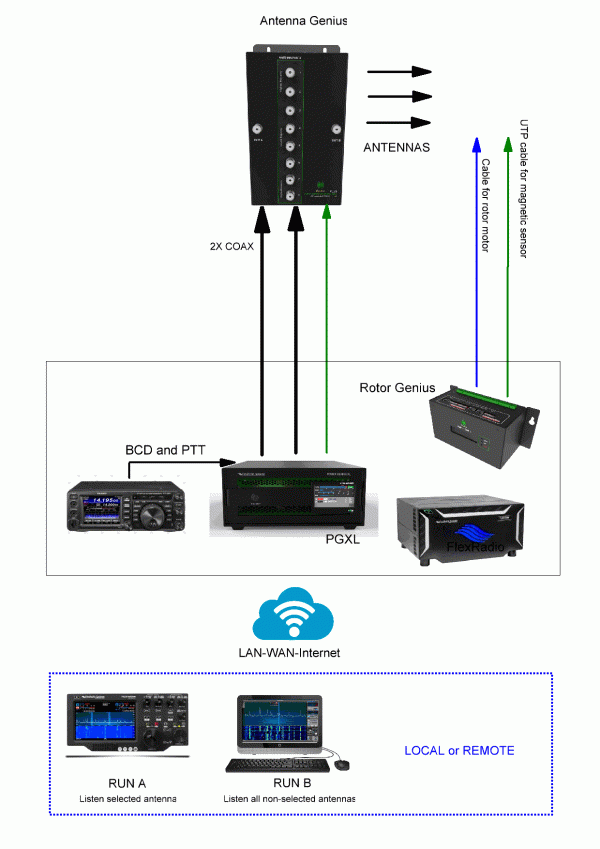 27. SO2R with Flex and BPFs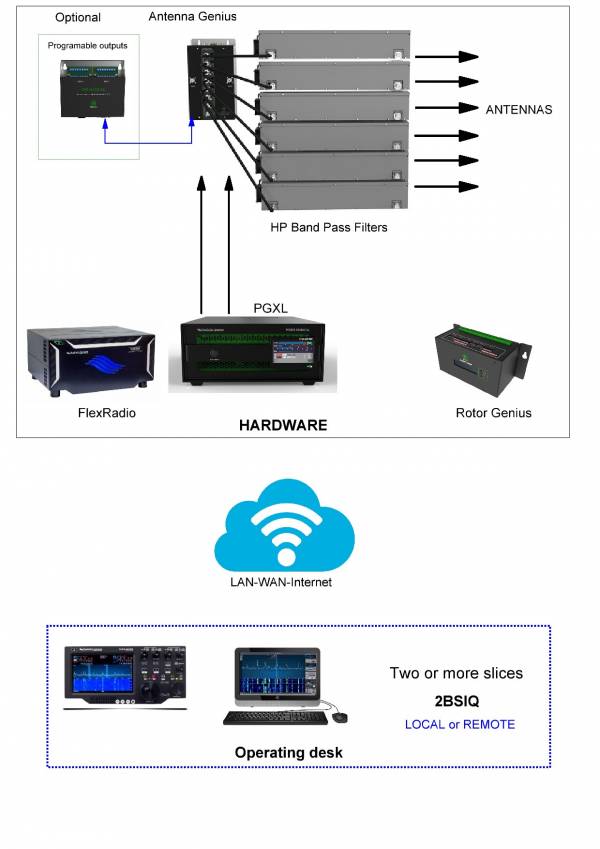 28. SO2R with Flex and BPFs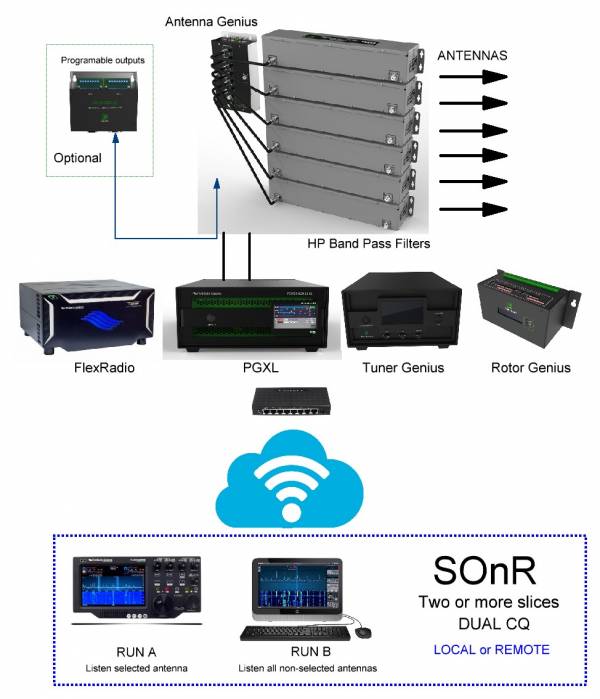 29. TGXL and AG pic plus block-diagram