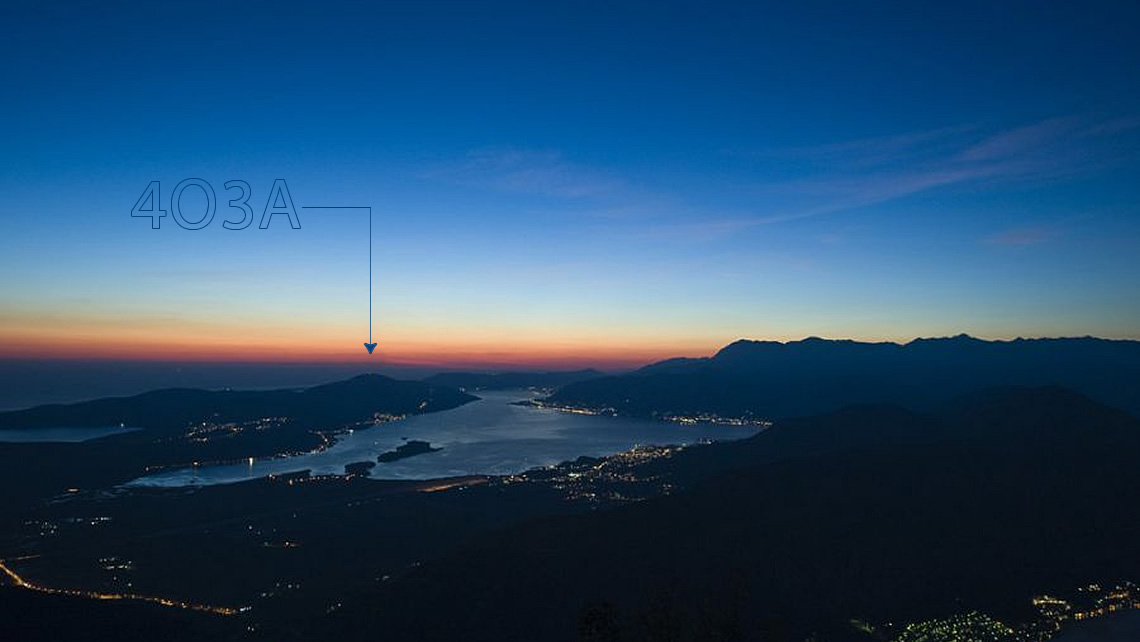 Henryk Kotowski SM0JHF
4O3A Super Station
World traveller and photo-journalist Henryk Kotowski SM0JHF brings readers a snapshot of one of the world's largest and most impressive amateur radio installations, 4O3A in Montenegro.
The Bay of Kotor in Montenegro is visited by thousands of tourists every year. Most likely, very few of them realize that the antenna towers visible at the top of the hill at the entrance to the bay are actually part of an amateur radio installation.
For some years now, the station of Ranko Boca 4O3A has been a new landmark forming part of this natural wonder. Ranko started building his extreme station from scratch more than ten years ago. He had returned home after the Balkan War and resumed his business and amateur radio activities. Montenegro was still tied to Serbia and Ranko used the callsign YT6A, but in the middle of 2006 this region declared independence and consequently the callsign prefix 4O was assigned to this tiny Balkan republic of around 14,000 sq. km.
Reaching the station located at nearly 600m a.s.l. is quite an effort and is time-consuming as well. Ranko has recently started flying a small helicopter instead of driving the long, bumpy and steep road. Choosing this location was a bold step, but his vision and desire to create something unique overcame common sense considerations. The summit has been used as a military observation point for centuries, overlooking the Adriatic Sea on the west and the bay on the east. Quite apart from difficult access and strong winds,this location is prone to be struck by lightning.
Ranko began thinking about a competitive station at the end of 1980s. The civil war was imminent and when it was over, he first went on a reconnaissance and guest-operated from some contest sites in the West Indies and the Mediterranean. Then he built a small house here and the long odyssey began. It is a continuous process of building new, modifying, improving, replacing and repairing. It is also a test range for Ranko's company's own products – filters and switches. The station is on the air almost daily, with the emphasis on contests. There is a team behind
Ranko, people who do the antenna work, operators, assistants and lots of visiting guest operators. Well over 550,000 contacts have been logged since 2006 and uploaded to the Logbook of the World (LoTW) database.
A passion
Ranko's passion for the hobby started in 1975 when he 15 years old. He became a member of a local radio club and discovered the fun of competing on the air. The spirit of rivalry between the clubs was high and radio contests were a fad of the era. This approach to amateur radio was widespread in Eastern Europe in general, mainly because of the Iron Curtain. While attending university in Podgorica, the former capital city, Ranko became known for home-made amplifiers and hospitality. He got his first licence in 1980 and quickly gained a reputation as a solo contest operator. This summer he will be participating in the World Radiosport Team Championship (WRTC) 2014 in New England, USA. Previously, Ranko has taken part in three of the WRTC events, once as a referee and then twice as a competitor, in Brazil and in Moscow. The WRTC is the ultimate test of operating skills and endurance, sometimes referred to as the Olympic Games of amateur radio.4O3A is not an average station and the person behind this station is far from average. It takes a combination of skills, will, determination, stamina, entrepreneurial spirit and deep interest in a particular field to accomplish a huge long-term project such as this.