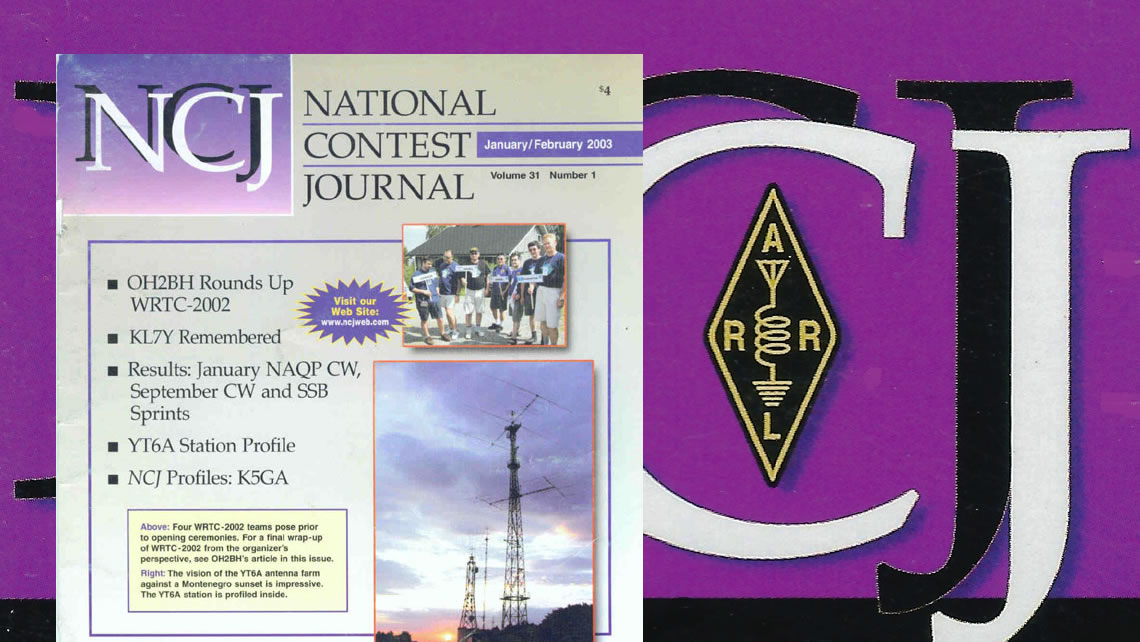 NJC journal. Jan/Feb 2003, written by Mark D Beckwith N5OT
Station Profile - YT6A
Why is that when you clear whole weekends on your calendar for a contest, sometimes that turns out to be the only time left to get serious antenna work done? Months ago l hoped to smoke-test my 40-meter antennas in the 2002 CQ WW CW. Naturally, Saturday, after a great night smoke-testing 80 meters, which didn`t need smoke-testing. I got the last 40-meter Yagi built and in the air Saturday night l finally got to play with my new toys.
In the big DX contest, there are some call sings that we all just take for granted. On any band in any year, when there`s a decent opening to Europe from North america, working Yugoslavia is something we all take for granted. The reason? There are stations we know will diliver the goods. One such station is the product of over 20 years of hard work and dedication by a fellow named Ranko Boca- none other than YT6A.
Talk about a hardware fanatic`s fantasy- the first time l saw photos of YT6A all l could think was "no wonder l always get Yugoslavia in the log".You know when yuo see photos of guys crawling their way out along the boom, away from the mast(kids, don`t try this at home), that these must be some serious antennas (and some crazy guys). This was the first photo of YT6A l saw. Immediately l knew Ranko would make a great subject for the Hardware Addict`s column.I checked with the Hardware Adidct and we werw of one mind about it.
The man behind the call sign
Ranko Boca is a Telecommunications engineer. He is married, with a son Dragisa, 15, and two daughters Milica and Bojana, 12 and 4. Ranko has been involved with telecommunications since grammar school. Today he is an owner of a well-known company: Sky Sat d.o.o. His company manufactures FM and TV transmitters as well as telecommunications equipment. Ranko`s professional ventures can be found at.
Since 1975, Ranko has been involved in ham radio. He joined the local ham radio club YU6KOP and earned YU6ZAX in 1980, and has been contest-active since. At that time in the former Yugoslavia, local contest were very popular. Ranko recalls,"In those days competition was fierce. In order to win first place you not only needed really good equipment, but you also had to have ham radio knowledge and be an excelent operatot". Almost every ham radio operator in the country was involved in these domestic competitions. "These were the best contest schools for almost every ham radio operator from the former Yugoslavia".
In the YT6A Shack
Radios
Yaesu FT-1000MP, Kenwood TS-850, Kenwood TS-870, Kenwood TS-940, Icom ic-740.
Amps
Alpha 99, Dentron MLA-2500, Henry 5K, Kenwood TL-922.
Software
WriteLog
Antennas
160 meters
Sloping dipole, Beverages on JA and NA
80 meters
Homebrew 3-element Yagi (full-sized), At 48m high, Beverages on JA and NA
40 meters
5-element wire Yagi bearing West at 29m high, 2-element wire Yagi bearing East at 29m high
20 meters
4/4 Yagis at 22 m high (OWAs)
15 meters
5/5/5 Yagis at 29m high (OWAs)-existing 5/5/5 Yagis at 30m high (OWAs)- Under construction
10 meters
6/6 Yagis at 17m high (OWAs)
During those years as a student, Ranko became a legend for building linear amplifiers carrying the names of national heroes: Njegos, Vladika Danilo. He also became a legend in the amateur community because of his hospitality, and his stations became synonymous with big signals and excellent results.It was during this time he won his most coveted victory-in 1985 he won "KUP SRJ" for his club YU6GBE. At that time he would enter international tournaments as YZ6G using a universyty station in Podgorica with modest equipment.
Attention Turns to International Contest
Ranko`s first serious WW activity started in 1986 in Molunat, a peaceful fishing area of Croatia, about 20 km from Herceg-Novi.On the edge of Molunat you will find a peninsula. On the peninsula is a 500 kHz marine radio beacon. The beacon used a wire antenna held by two towers about 25 metrs tall…(need l say more?).In those lean collegeyears, Ranko started with single-band entries on 15 meters. From this station, Ranko introduced his new call YT6AA for the first time in the `86 CW WPX. From Molunat, he entered mainly single-band 10 and 15-metr effots.
The War Comes and Goes
Ranko changed his mind due to the war awaiting the former Yugoslavia, and ind the period of 1989-1995 YT6AA was inactive. He and his family moved in Hungary to continuecompany operations.
In 1995, friends Hrane, YT1AD, and Rase, YU1RL, invited Ranko to go to Antiqua, and from that moment Ranko became active again. After that trip, Ranko went to V2, FM5, 5B4 and VPS and started to build a contest location in Montenegro.It was during this period that Ranko finished first in three ARRL CWs for DX-North America: TO5A, FM5DN, and V26AS. In the `97 CQWWW CW, he won first place Single-Op Assisted from FM5DN. In the `97 CW WPX he won world first place on 80 meters as 4O6A.
The YT6A Contest Station
Having estabilished himself as an operator to watch, Ranko Boca would become known as a top station builder. His current station began construction in 1998. It is located 600 meters above sea level on the top of Lustica, at the entrance into the Bokokotorska Bay. Surroundedby the sea, his new location has a breathtaking view of one of the most beautiful lagoons in the Mediterranean. That year he built a small shack (50 square meters, 600 sqare feet), and the following year he erected his first tower.
Today YT6A boasts 5 antenna towers(see sidebar). Currently Ranko is working on a sixth tower that will hold a second 5/5/5 stack for 15 meters. The curent 5/5/5 and the new 5/5/5 will give YT6A the capability to phase 6 Yagis(30 elements) on North America.
Murphy Must Not Be a Ham
Of course, life wouldn`t be interesting if everything went as planned", Ranko tells us, and we can hear a good story coming on." In 2001, l erected a large system for 15 meters on the main tower. It was an inpressive system of 5/5/5, and another 7 elements on the boom of a big 3 element 80.Interference from BC transmitters working from the same location was so strong that is was hard to recive the weaker W6/W7 signals in the large CQ WW pileups.It was very disappointing to get bad resulrs with such a large system in comparison to the top stations on 15 meters, who were using single antennas".
After the CQ WW, the source of the problem was found. However, that season brought an unusually windy winter, and strong winds destroyed that first large system for 15 meters.Ranko modified the concept and will phase the two shorter stacks side-by-side, as described above, on two different towers.
Design
Ranko completed the entire antenna system planning with the help of AOP software."Using AOP, l was able to model the complete location, with all thetowers and objects". The antennas for 10, 15 and 20 are all custom-built OWA designs.The sistems for phasing all antennas were designed for 5 kW power, and all were placed in waterproof enclosures mounted on the towers.
The YT6A radiators are fed with Andrew half-inch and ?-inch Heliax with N connectors throughuot. "RG-213 type coax and UHF connectors are not used at YT6A".
Ranko`s commercially-built profesionl-grade antenna switches have a curious model number:"YT6A". YT6Aantenna swiches are available to the public from two distribution centers, one in Montenegro (YT6A) and another in Chicago (KB9K). "Usiing YT6A switches is extremely easy. When the transceiver is turned off, all of the antennas are automatically grounded. This is very important, because lightning is often seen during relatively calm days on top of the mountain."
Inside the Shack
Inside YT6A, the equipment is set up on custom consoles. Computers are networked. Contest software is Writelog. In the srack you will find modern transceivers and modern commercial amps(see sidebar), plus a few homebrew ones.
In the shack is a separate room where you can find all the antenna connections, band pass and notch filters required for six bands to operate from the same room at full power.
The Crew
Many YU and foreign operators have visited Ranko. He is know for his hospitality and seemingly everyone has participated at his new station. Visitors include W6GZG, S53A, S53CM, S53MV, S56A, ON4UN, K1ZZ, WX0B, I7PHH, Z33AA, YU1EW, YU1AU, YU1NW, YU1LA, YU7YU, YU7FN, VK1AA, T95A, T94B, T91S, YZ7DX, YU1FW, YT1XX, YT1TA, YU1AO, YT11AD, YU6A, YU6AO and many others.
Today YT6A is still growing. At present, the station enters separate single-band categories, and also supports multisingle operations. Ranko has plans to build YT6A into a full multi-multi operation."The same group of ham radio operators always get together at this location with a lot of enthusiasm. You can always see YT6T, Z32AF,YU1RE, YU7EU and YT6PSF. Visitor VK1AA says"After what we`ve seen and lived thruogh at YT6A, l know that it won`t be any problem for Ranko to gather a good team for whichever future contest".
You can hear Ranko and the gang in almost every contest. The YT6A signal is reliably strong and it`s always a pleasure to hear them on. Ranko closes: "Contesters who want to operate from this fantastic location can contact me via email at I will definitely welcome you to my home."