UPS Shipping Rates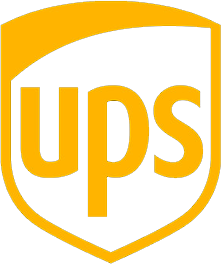 We do world wide shipping with UPS. Shipping cost is calculated based on weight of packages, as shown by the table.
More information on UPS web site.
Duties and customs fees imposed by the destination country are the responsibility of the customer. Unfortunately we are unable to give advice as to whether your destination country will impose a customs fee and how much that customs fee will be.
Thank you for your understanding.
Zone 1 (Europe)
| | |
| --- | --- |
| Weight in kilograms | Price in EUR |
| 1.00 | 40.00 |
| 2.00 | 50.00 |
| 3.00 | 58.00 |
| 4.00 | 64.00 |
| 5.00 | 70.00 |
| 6.00 | 76.00 |
| 7.00 | 82.00 |
| 8.00 | 88.00 |
| 9.00 | 94.00 |
| 10.00 | 100.00 |
| 11.00 | 106.00 |
| 12.00 | 112.00 |
| 13.00 | 118.00 |
| 14.00 | 124.00 |
| 15.00 | 129.00 |
| | |
| --- | --- |
| Weight in kilograms | Price in EUR |
| 16.00 | 135.00 |
| 17.00 | 141.00 |
| 18.00 | 147.00 |
| 19.00 | 153.00 |
| 20.00 | 159.00 |
| 21.00 | 164.00 |
| 22.00 | 170.00 |
| 23.00 | 176.00 |
| 24.00 | 181.00 |
| 25.00 | 187.00 |
| 26.00 | 193.00 |
| 27.00 | 198.00 |
| 28.00 | 204.00 |
| 29.00 | 210.00 |
| 30.00 | 215.00 |
| | |
| --- | --- |
| Weight in kilograms | Price in EUR |
| 31.00 | 221.00 |
| 32.00 | 226.00 |
| 33.00 | 232.00 |
| 34.00 | 238.00 |
| 35.00 | 243.00 |
| 40.00 | 271.00 |
| 45.00 | 298.00 |
| 50.00 | 326.00 |
| 55.00 | 353.00 |
| 60.00 | 381.00 |
| 65.00 | 408.00 |
| 70.00 | 436.00 |
| 70+ €/kg | 6.60 |
Zone 2 (USA, Canada & China)
| | |
| --- | --- |
| Weight in kilograms | Price in EUR |
| 1.00 | 43.00 |
| 2.00 | 55.00 |
| 3.00 | 65.00 |
| 4.00 | 72.00 |
| 5.00 | 80.00 |
| 6.00 | 87.00 |
| 7.00 | 94.00 |
| 8.00 | 101.00 |
| 9.00 | 108.00 |
| 10.00 | 115.00 |
| 11.00 | 122.00 |
| 12.00 | 130.00 |
| 13.00 | 137.00 |
| 14.00 | 144.00 |
| 15.00 | 152.00 |
| | |
| --- | --- |
| Weight in kilograms | Price in EUR |
| 16.00 | 159.00 |
| 17.00 | 166.00 |
| 18.00 | 173.00 |
| 19.00 | 180.00 |
| 20.00 | 187.00 |
| 21.00 | 194.00 |
| 22.00 | 200.00 |
| 23.00 | 207.00 |
| 24.00 | 214.00 |
| 25.00 | 221.00 |
| 26.00 | 228.00 |
| 27.00 | 234.00 |
| 28.00 | 241.00 |
| 29.00 | 248.00 |
| 30.00 | 255.00 |
| | |
| --- | --- |
| Weight in kilograms | Price in EUR |
| 31.00 | 261.00 |
| 32.00 | 268.00 |
| 33.00 | 274.00 |
| 34.00 | 280.00 |
| 35.00 | 287.00 |
| 40.00 | 319.00 |
| 45.00 | 352.00 |
| 50.00 | 384.00 |
| 55.00 | 417.00 |
| 60.00 | 449.00 |
| 65.00 | 482.00 |
| 70.00 | 514.00 |
| 70+ €/kg | 7.80 |
Zone 3 (World)
| | |
| --- | --- |
| Weight in kilograms | Price in EUR |
| 1.00 | 55.00 |
| 2.00 | 70.00 |
| 3.00 | 83.00 |
| 4.00 | 96.00 |
| 5.00 | 109.00 |
| 6.00 | 121.00 |
| 7.00 | 133.00 |
| 8.00 | 145.00 |
| 9.00 | 156.00 |
| 10.00 | 168.00 |
| 11.00 | 180.00 |
| 12.00 | 191.00 |
| 13.00 | 203.00 |
| 14.00 | 214.00 |
| 15.00 | 226.00 |
| | |
| --- | --- |
| Weight in kilograms | Price in EUR |
| 16.00 | 237.00 |
| 17.00 | 249.00 |
| 18.00 | 260.00 |
| 19.00 | 272.00 |
| 20.00 | 283.00 |
| 21.00 | 295.00 |
| 22.00 | 306.00 |
| 23.00 | 318.00 |
| 24.00 | 329.00 |
| 25.00 | 341.00 |
| 26.00 | 352.00 |
| 27.00 | 364.00 |
| 28.00 | 375.00 |
| 29.00 | 387.00 |
| 30.00 | 398.00 |
| | |
| --- | --- |
| Weight in kilograms | Price in EUR |
| 31.00 | 409.00 |
| 32.00 | 421.00 |
| 33.00 | 432.00 |
| 34.00 | 443.00 |
| 35.00 | 455.00 |
| 40.00 | 511.00 |
| 45.00 | 568.00 |
| 50.00 | 625.00 |
| 55.00 | 681.00 |
| 60.00 | 738.00 |
| 65.00 | 794.00 |
| 70.00 | 851.00 |
| 70+ €/kg | 12.90 |
Special Destinations Europe
This is the list of special destinations, for parcels of 20-30 kg in weight.
Shipping price is fixed to 100 EUR. It is possible that some of destinations are not available at this very moment, please check with use before you choose shipping option.
Please be aware that you have to take care about import documentation, procedures.

You can pick your parcel on following European airports:
| | |
| --- | --- |
| City | DEST |
| Belgrade | BEG |
| Banja Luka | BNX |
| Barcelona | BCN |
| Bucharest | OTP |
| Ljubljana | LJU |
| Sofia | SOF |
| Sarajevo | SJJ |
| Skopje | SKP |
| Tirana | TIA |
| Zagreb | ZAG |
| Amsterdam | AMS |
| Stockholm | ARN |
| Athens | ATH |
| Berlin | TXL |
| Brussels | BRU |
| | |
| --- | --- |
| City | DEST |
| Helsinki | HEL |
| Copenhagen | CPH |
| Paris | CDG |
| Dusseldorf | DUS |
| Frankfurt | FRA |
| Hamburg | HAM |
| Krasnodar | KRR |
| Kiev | KBP |
| Larnaca | LCA |
| London | LHR |
| Madrid | MAD |
| Malta | MLA |
| Milan | MXP |
| Moscow | SVO |
| Nice | NCE |
| | |
| --- | --- |
| City | DEST |
| Dubrovnik | DBV |
| Pula | PUY |
| Prague | PRG |
| Rijeka | RJK |
| Rome | FCO |
| Split | SPU |
| St Petersburg | LED |
| Stuttgart | STR |
| Thessaloniki | SKG |
| Vienna | VIE |
| Venice | VCE |
| Zadar | ZAD |
| Zurich | ZRH |
| Istanbul | IST |